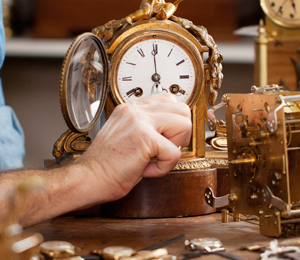 Every item in our homes needs a good cleaning every now and then. Our clocks are no different. Whether it's been stuck in an attic for decades or if it just needs a regular cleaning, we at Gruhr Ltd. can help. We have been cleaning and restoring clocks for 30 years, and we can help make your clock look like new again.
Maintaining Your Clock with Oiling, Lubricating, and Regulating
You may not realize it, but clocks need regular maintenance in order to function properly. This is especially true for antique clocks, grandfather clocks, cuckoo clocks, and more. After all, clocks have many working parts, and they need to be oiled, lubricated, and regulated in order to stay working. At Gruhr Ltd., we can provide regular maintenance services to keep your clocks working as they should.
Why Choose Gruhr for My Clock Maintenance Service?
At Gruhr, we've been in the clock business for over 30 years. Prior to this, our founder, Timothy Grabenhofer, spent years in England under the tutorship of a clock master. Mr. Grabenhofer quickly established himself as a master himself, becoming a sought-out expert in the field. He can do more than just fix clocks—he can restore them to their former glory, no matter how damaged or dated they may be.
To learn more about our clock maintenance services, contact Gruhr Ltd. today!